This past Sunday I went to church at a ward I served in on my mission. I walked in and there were a few missionaries at the door waiting for investigators, as well as a couple others. I said hi to everyone and a Jamaican man said, "do you remember me?" I looked at him for a second and said, "LLOYD! I found you by the coffee shop!" Indeed it was. My journal entry from that day I met him:
May 15, 2013
...After dinner tonight we tried to contact a referral that wasn't home so we prayed about where to go and ended up going to drop by a less active that was on our dot map. Right as we were arriving, this man passed us. He looked directly at us and said, "I've seen that beautiful girl before." Sister Cross (my companion) said, "oh, have you seen us before?" He pointed at me and said, "her, or maybe it's just her smile."
*note-especially in crazy cities, things like this happen. You just wait for them to propose to you or keep talking to them waiting to find out they're just high.
So I said, "Hey! I have something for you!" I walked closer to him with a mormon.org card in hand and started to talk to him about the gospel. We ended up going into a Country Style (coffee shop) and teaching him there. He wants to change his life (he wasn't high, quite normal in fact!) He has been 'church shopping' some. He said he was just telling his mom about how he wants to come back to church again. After teaching him about baptism he said, "we can meet every day and talk about this if you want!" We're going to meet him Friday!
So the coming week after this great experience was filled with unsuccessful meet ups with Lloyd and drop bys that didn't work out either. I left the mission field one week later not thinking much about it.
So when Lloyd asked me if I recognized him at church on Sunday it took me a second to. I was still in shock that he was actually there! But his countenance had changed. And that's the blessings of the Gospel of Jesus Christ, folks. He told me he's getting baptized in just a few weeks.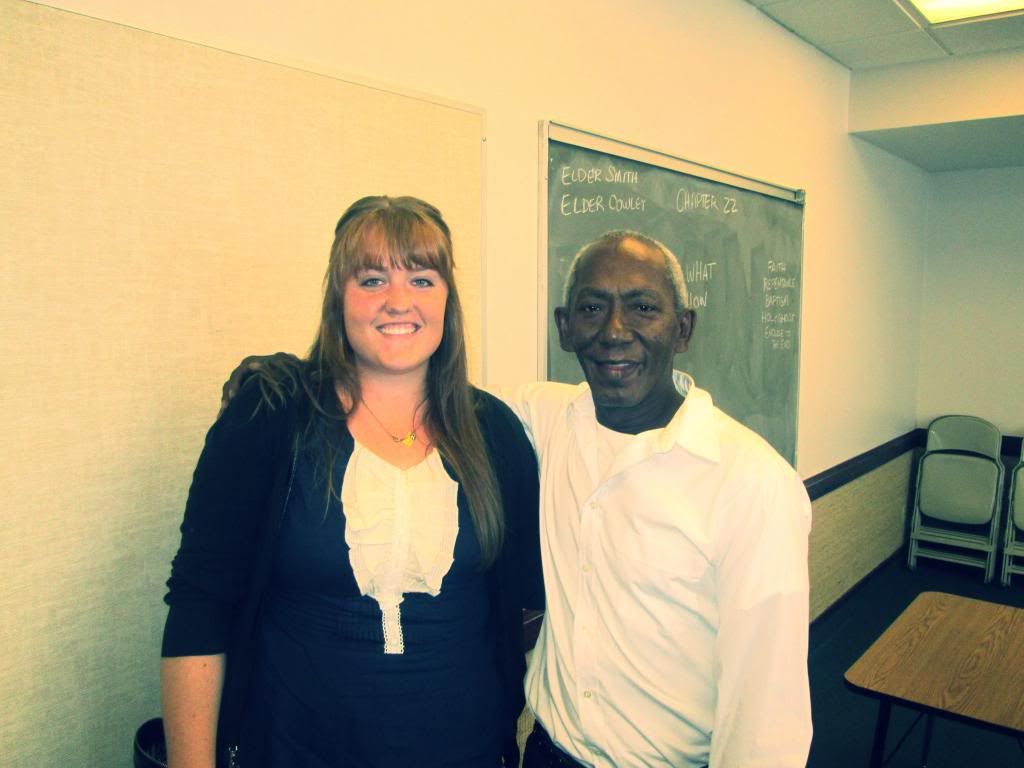 Me & Lloyd
Another lesson taught to me about how you never know who you're influencing or what impact you may have on someone. Or perhaps just how prayer can lead you to the place you really need to be.